Change How You Package
With Ranpak
Box Smarter with Paper Packaging
Simple and safe material
Paper is non-toxic and stores flat without the need to manually inflate, mix chemicals, or move barrels. Easy to manipulate without the need for additional tape or cutting blades.
Adaptable Solutions
With 50+ years of expertise in sustainable packaging, Ranpak has solutions for virtually any application within a box and the knowledge to create optimal configurations.
Sustainable and recyclable
Our paper packaging is 100% recyclable, renewable and biodegradable. Paper enjoys a high rate of recycling and is easy to dispose of in a household or curbside bin, unlike most plastic films.
Sustainable Packaging Options For Any Application
We offer a full spectrum of in-the-box, paper-based technologies and products
Our sustainable packaging can protect, preserve and conform to any item you ship. Through advanced technology and automation, we are facilitating a safe and seamless journey from industrial sites to consumer homes. Though we serve different businesses and industries, our commitment to supply chain performance and sustainable biodegradable packaging remains the same.
250+
Exclusive distribution
partners worldwide
700+
Patents in paper cushioning,
void fill and wrapping systems.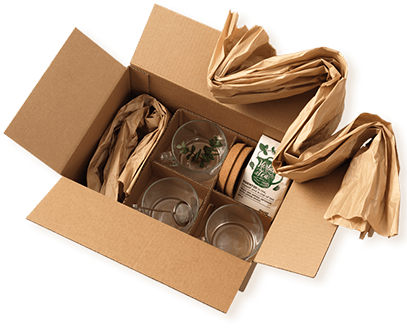 Start the conversation
Speak with a Packaging Expert today to find the right packaging solution for your company
Customer Spotlights